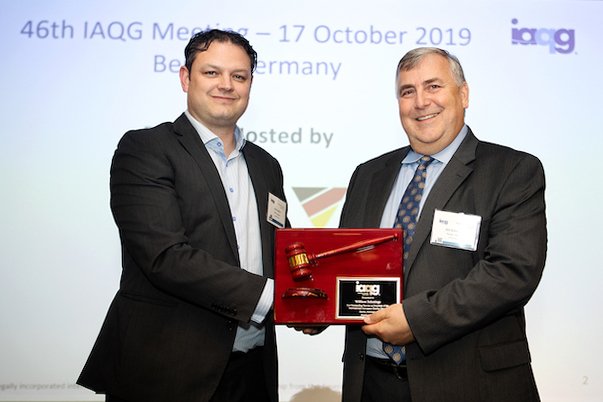 IAQG President Bill Schmiege passed the leadership gavel to Andy Maher, Quality Director for BAE Systems Air Sector, during the group's 46th General Assembly in Berlin, Germany. Bill, Vice President of Integrity at Parker Aerospace, thanked the Assembly for the opportunity to hold the leadership position for two terms and welcomed Andy as the new president.
Bill assumed his position as IAQG President in 2015. Prior to that, he was the AAQG Sector Lead. During his tenure as President, Bill was instrumental in developing and progressing the IAQG strategic plan as well as laying the foundation for the organization's digital transformation.
As incoming president, Andy will continue to progress the IAQG mission and improve processes employed by the supply chain that consistently deliver high-quality and safe products through global industry collaboration and standardization. Prior to becoming President, Andy was the EAQG Sector Lead.
Per the IAQG Articles of Association, an IAQG President shall be a full IAQG member represented by an individual designated by its company. Individuals holding this position commit to a two-year term, renewable for one term. The IAQG President is head of the IAQG Executive Committee, which manages the global group by establishing and maintaining policies and procedures on behalf of the aerospace industry.
Please just us as we thank Bill for his service and welcome Andy to his new position.